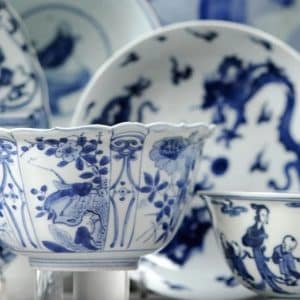 Our luxury collection, the Blue White Tiles catalog showcases an unmatched quality that you must experience for yourself. When you touch and feel these porcelain tiles, you will understand why this collection is highly valued.
As we all know, Blue White Tiles are famous in Portugal and Holland, adorning cities with their historic designs, and it's evident how much both countries love them.
But before gaining fame in Europe, these tiles have a long history originating from Ancient China, where porcelain ware with blue designs became renowned. The blue color itself was imported from Persia, adding to the rich historical tapestry that connects us.
Cobalt blue holds special significance in the annals of Chinese ceramics, particularly during the Tang dynasty (618-907). The distinct blue glaze found in pottery and porcelain was derived from cobalt ores imported from Persia, which were scarce and used sparingly. While the history of Chinese blue and white porcelain can be traced back to the Tang and Song eras, it took another hundred years, during the Yuan era, for the technology to mature.
Blue and white porcelain became widespread in China from the late 1300s to the 1600s, reaching its zenith in the early 1700s. The evolution of this art form was the result of a fusion of Chinese techniques and Islamic trade. The distinct blue color owes its origins to cobalt ores imported from Persia.
And the rest is history, from Ancient China to Persia, and then to Ancient Rome and the Moors, finally leading to the flourishing of Blue White Tiles in Europe.
🌐 Product Catalog: https://terracotta.com.my/catalogue-blue-white-tile/